Anatomical Society Prize 2019
The Anatomical Society is delighted to announce that the recipient of the 2019 Anatomical Society Prize will be Professor Alan Boyde.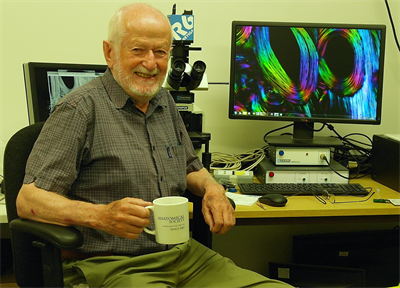 Alan Boyde is Professor of Mineralised Tissue Biology at Barts' and The London School of Medicine and Dentistry, Queen Mary University of London (QMUL). His focus is on high class optical and electron microscopy of all the hard tissues and their disease conditions, inventing and introducing new methods which are special to the field. His current interests include changes in bone with aging and in osteoporosis and osteoarthritis: articular cartilage: high density mineralised infill crack healing in calcified tissues: high density mineralised protrusions in articular cartilage: comparative micro-architecture of bone and responses to function and drugs: overload arthrosis in man and racehorse: studies of retrieved skeletal implants: special problems in implant microscopy: characterisation of the phenotype in mouse genetic models: and methods for correlating between methods. Alan serves on the Editorial Board of several bone and microscopy journals.
He graduated BDS at The London Hospital Medical College (LHMC) in 1958, joined the Anatomy Dept there in 1959 as a junior demonstrator and started working with TEM and x-ray microscopy. His great good fortune was in discovering SEM at the Cavendish Laboratory, Cambridge [with V. Roy Switsur in 1959] and at the Engineering Lab [with A.D. Gary Stewart in 1960]. He joined the Anat Soc 1962. His PhD in 1964 won him the Thomas Henry Huxley award of the Zoological Society. Alan received his first SEM grant, 1966, from SRC, which won him a transfer as Reader to Anatomy UCL under JZ Young in Feb 1967. Returned to his alma mater, now QMUL, in 2003. Alan served as President of the Anatomical Society from 2002-2004.
When not in the dark, likes cruising.