The Postgraduate Neuroanatomy Competition 2017
The first postgraduate neuroanatomy competition for junior doctors took place at the Centre for Learning Anatomical Sciences at University Hospital Southampton on 2nd September 2017. The day involved a spotter assessment using dissected brain specimens, a clinically orientated one best answer MCQ exam and a neuro-imaging assessment, including neuro-pathology. Participants were invited into the laboratory after the event for feedback and discussion. Participants then took part in an interactive workshop led by neuro-intensive care Consultant Dr Sarah Jones on how to manage an unconscious patient. Certificates and awards were presented at the end of the day by fourth year medical student Matthew Myers who led the coordination of the event.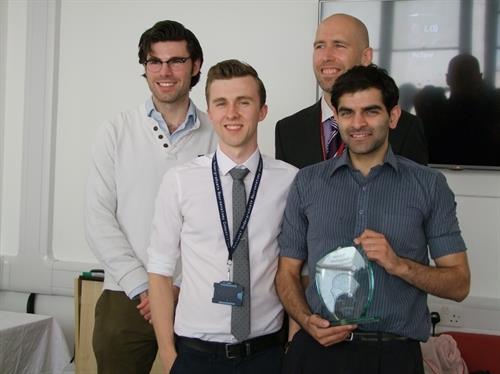 From left to right: Daniel Fountain, Cambridge University Hospitals, NHS Foundation Trust (runner up). Matthew Myers (organiser). Scott Border (organiser)and Ronak Ved, University Hospital of Wales (winner).The third place contestant, Haritha Maripi, Bedford Hospital, is not photographed.