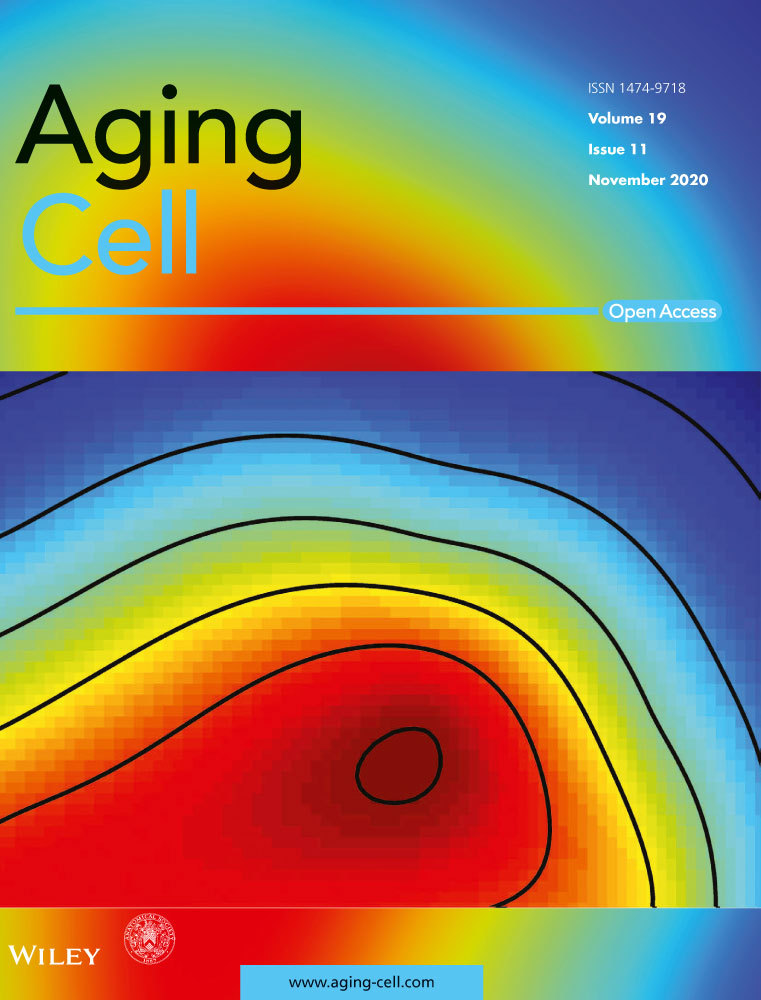 Aging Cell
Aging Cell is a bi-monthly peer-reviewed, open access journal that aims to publish the highest quality, innovative research addressing fundamental issues in the biology of aging. You can sign up to obtain "content alerts" on the journal homepage - more information here
See below for information on:
Best Article Award
Anatomical Society Studentships
Editorial Board
Scope and Information for Authors
Best Article Award 2022
Dominic F. Bennett, Anita Goyala, Cyril Statzer, Charles W. Beckett, Alexander Tyshkovskiy, Vadim N. Gladyshev, Collin Y. Ewald, João Pedro de Magalhães. 'Rilmenidine extends lifespan and healthspan in Caenorhabditis elegans via a nischarin I1-imidazoline receptor.' Aging Cell, Volume 22, Issue 2, February 2023, Pages 1-15 https://doi.org/10.1111/acel.13774
Runner-UpQuentin Alle, Enora Le Borgne, Paul Bensadoun, Camille Lemey, Nelly Béchir, Mélissa Gabanou, Fanny Estermann, Christelle Bertrand-Gaday, Laurence Pessemesse, Karine Toupet, Romain Desprat, Jérôme Vialaret, Christophe Hirtz, Danièle Noël, Christian Jorgensen, François Casas, Ollivier Milhavet, Jean-Marc Lemaitre. 'A single short reprogramming early in life initiates and propagates an epigenetically related mechanism improving fitness and promoting an increased healthy lifespan'. Aging Cell, Volume 21, Issue 11, November 2022, Pages 1-12 https://doi.org/10.1111/acel.13714
Editorial Board
Monty Montano (Editor-in-Chief):
Monty is the Scientific Director of the Boston Pepper OAIC at Brigham and Women's Hospital and is on the faculty at Harvard Medical School. Dr. Montano received a Ph.D. in Genetics from the Stanford University School of Medicine. He conducts research on the biology of aging, musculoskeletal regeneration, and chronic infection. He is the author of a book entitled, "Translational Biology in Medicine: Models from Aging, Muscle Regeneration and Infection." Monty joined Wiley as Editor-in-Chief of Advanced Biology in November 2021 and was appointed Editor-in-Chief of Aging Cell in December 2022.
Full List of the Editorial Board can be found here
Scope of Journal & Info for Authors
Impact factor:7.238
2019 Journal Citation Reports (Clarivate Analytics): 34/195 (Cell Biology)3/51 (Geriatrics & Gerontology)
Aging Cell publishes novel and exciting science which addresses fundamental issues in the biology of aging. All areas of aging biology are welcome in the journal and the experimental approaches used can be wide-ranging. With the rapid developments in genomic sequencing and analysis, and availability of new technologies to analyse functional genomics and proteomics, the combined powers of genetics, biochemistry and cell biology are leading to the very rapid production of new information. Aging Cell welcomes the results of these programmes.
Aging Cell covers:
Genes and functional genomics

Cell proliferation, senescence and death

Signaling and gene expression

Stem cells and aging

Cell stress and damage

Integrative physiology

Biodemography and comparative studies

New theories of aging and longevity